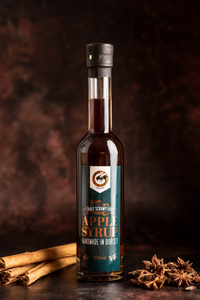 Truly Scrumptious Apple Syrup
Hand Made in Dorset
Indulge in our truly scrumptious lightly spiced apple syrup, perfect drizzles on pancakes, lavished over ice cream and poured over cheesecake. 
Use as a non-alcoholic liqueur on ice or stir into cocktails.
An appley treasure from an old coveted family recipe... 
Contains 30 Organic Apples, some sugar and spices.  No artificial flavourings.
Gluten Free and Vegan Free